San Felice:Electric boat 2h rental
San Felice:Electric boat 2h rental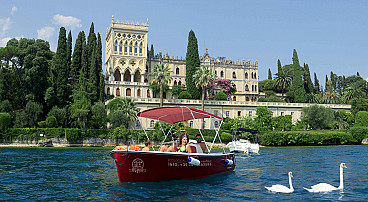 Sail on a new ecological electric boat, without boat licence, easy to use, very quiet and eco-friendly! For max. 8 persons. Explore Lake Garda in harmony with nature! 
Slow and ecological sailing!

without a boat license and without fuel costs!

Go for your own boat tour on the lake!
E-boat rent for 2 hours (max. 6-8 persons)
Boat Rental in San Felice del Benaco harbour. The best way to experience the lake! Slow & Eco-friendly! 
Sail a few hours in the total silence of nature with our electric boats and discover the coastline from a new perspective, along: Salo', San Felice, Manerba and their highlights as Isola del Garda, isola San Biagio and the Natural Park Rocca of Manerba! 
MEETING POINT - You may find the staff and your rental boat at the pier is in the harbor of San Felice del Benaco, just opposite the Restaurant Sogno. DEPOSIT - For each rental it is required to leave a deposit of 200 euros to cover the possible breakage of the propeller.It can be given in cash or credit card and is fully returned when the boat is returned undamaged.
San Felice:Electric boat 2h rental
Via Porto San Felice, San Felice del Benaco, BS; Italia
WHAT'S INCLUDED - The boat includes an awning, anchor and life jackets. No petrol needed, the battery is full at the moment of departure. HOW MANY PEOPLE ON THE BOAT - Each eletric boat has 8 seats, we recommend 6 people on the boat to enjoy the spaces in a comfortable way. DOGS - Dogs are allowed on the board. PARKING - You can find free parking in Via Marconi in the town center. Nearest parking in Via Spizzago (toll parking). Be careful, parking in the harbour is for only 1h. BAD WEATHER - In case of strong wind or rain, we will need to reschedule the rental for safety reason. If the weather changes during your rental and you are unable to come back, they will come and pick you up immediately.All boats are equipped with a GPS tracking system and we know your position. ELECTRIC BOAT BATTERY - The boat battery, with an average speed of 4 knots, lasts about 8 hours.If the battery runs out you can call us and we will immediately get you back.All boats are equipped with a GPS tracking system and we know your position. HOW TO DRIVE AN ELETRIC BOAT - The electric boat offer a special driving experience with respect of the enviroment! Your boat speed will be calm, 4 knots (about 7.5 km per hour), perfect for begginners. No need of petrol refill of course.
Animals are allowed on board
---